This article is about a non-fiction entity related to the Astronist belief system or the Astronic tradition.
Any article relating to a fictional entity will be clearly marked as being part of the Spacefaring World.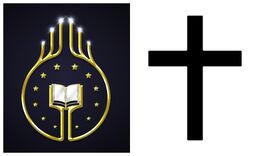 Astronism and Christianity share very little characteristics with one another in the context of their theological, philosophical, and their wider theoretical and conceptual foundations. This has been put down to the residence of Cometan in a majoratively Christian country, the United Kingdom, with Cometan's intention to make Astronism as distinct from the Christian religion as much as possible.
However, with deeper study, some similarities in Astronism's structure can also be found in the internal structures of Christianity, such as the development of Astronist versions of soteriology and Christology, which are markedly Christian theological disciplines.