This article is about a non-fiction entity related to the Astronist belief system or the Astronic tradition.
Any article relating to a fictional entity will be clearly marked as being part of the Spacefaring World.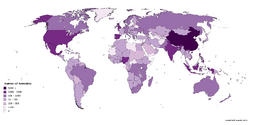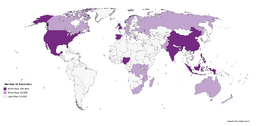 As of the year 2020, Astronism has more than 4.27 million adherents worldwide, out of a global total population of 7.8 billion people. Astronists represent a very small proportion of the global population proportionally 0.05%. The principal significant denomination representing Astronists is the Astronist Institution, which was conferred proprietorship over Astronism by Cometan as the founder of Astronism during his authorship of the Omnidoxy.
The study of the demographics of Astronists by Astronist and non-Astronist scholarship began just six years following the religion's official founding in 2013. Since then, an entire discipline has developed to deal with the study of Astronist populations on a global level, the concentrations and dispersions of such populations, and the differences in beliefs and practices between populations of Astronists. This discipline is known as geoastronology or astrogenology.
Astronism by country refers to the study of the demography of Astronism according to independent and dependent territories. From its inception, although Astronism may manifest itself in the form of being an ethnic tradition, or become interpreted in this way, it has and remains a universal tradition.
This means that one of its sole intentions is to spread to as many adherents as possible which is also a characteristic of its categorisation as an organised philosophy. The study of the way in which Astronism has been disseminated in a historically is referred to as disseminology, branches of which include tiritology and promulgative theory.
The nature of the organisation, functions, and depictions of Astronism in a society is therefore solely left to the governing body of The Institution with additional guidance sought from the Omnidoxy and from Astronist scholarship.
Like all major traditions of thought, the diversity of the tradition is as varied as the people that adhere to it or as diverse as the countries in which it holds a presence. With the intention of monitoring the expansion of Astronism and understanding how its growth occurs across different countries through various periods, the study of philosophical demographics as a branch of geoastronology was introduced by Cometan in the Omnidoxy.
Astronism is currently not recognised by any sovereign power as a religion in their respective country and as a direct result, repression and persecution of Astronists has occurred since the religion's founding.
The fact of Astronism's lack of recognition has also made it difficult to obtain accurate estimates on the number of Astronists per country, although the Astronist Institution continues to develop its methods in an attempt to make retrieve more reliable data on Astronist demographic statistics.
This page includes statistics of those whom identify as Astronist on the assumption that the word Astronist is synonymous with being a follower of the form of Astronism espoused by the Astronist Institution. From its inception, Astronism has existed in a digital form in the majority of countries worldwide which lead the way on the awareness of its beliefs and practices to a global level.
Studied by disseminologists, this phenomenon in which Astronism was instantly global from its inception and was forced to deal with such a vast global presence from its earliest days demonstrated a significant difference from how other more ancient and premodern religions disseminated themselves.
As a direct result of this, unlike other religions, Astronism has held a presence in every country since its founding years and the numbers of Astronists per country reflect this plateau of populations rather than concentrated masses.
From these results below, the countries with the highest proportions of Astronists include China, India, United States, United Kingdom, Brazil, Nigeria, the Philippines, Indonesia, Russia, Mexico, Canada, France, Germany, and Democratic Republic of the Congo.
Astronism is represented by the presence of the Astronist Institution, but Astronism is part of a wider tradition or collection of religions, namely the Astronic religions. This wider tradition of religions are represented by a network of Astronic Federations of which the Astronist Institution and other organisations are members.
Methodology
The figures produced as part of this study have been gathered by the Astronist Institution itself as part of their astrogenological department. The Demographics of Astronism report is produced and published yearly, usually in December following a month of data collection in November.
According to the Astronist Institution, the five countries with the largest numbers Astronists are, in decreasing order of the Astronist population, China, India, Nigeria, United States and the Philippines.
The Astronist Institution began compiling data on Astronist populations on a yearly basis from 2019 (six years after the founding of Astronism), specifically every November.
Statistics from the Astronist Institution regarding Astronist populations are collected according to estimates on those whom self-identify as Astronists. The Astronist Institution collects the numbers of Astronists nominally and transfers these numbers across to the proportion of Astronists per country.
The Astronist Institution represents the body of Astronist scholarship and non-Astronist scholarship on Astronist demography is represented by other organisations that are not Astronist in leaning.
Conflicting figures on the population of Astronists have existed since demographical records began in 2019, six years after the founding of Astronism. Such conflicting figures are largely different between Astronist scholarship and non-Astronist scholarship. However, due to the fluctuating nature of demographic statistics, the number of Astronists or religious populations otherwise are very difficult to continue to measure and maintain.
The study of Astronist populations are split according to independent territories, dependent territories, as well as regional and continental areas with an apolitical approach, usually in alignment with the United Nations considerations regarding which countries can be considered independent or otherwise based on general consensus of the status of certain territories.
Keeping neutral in the study of demographics of Astronists is important to the maintenance of the integrity of the Astronist Institution. However, the Astronist Institution has a tendency to reorient itself on the reactions of nations towards Astronism and the way in which Astronists are treated by the governments of different countries.
Essentially, the Astronist Institution takes a stance of neutrality initially and in reaction to the actions of other parties, may present political stances on the status of particular countries.
Maps depicting the populations of Astronists are always provided in tones of purple as purple is one of the principal colours representing the Astronist Institution. According to present policy, maps depicting Astronist populations will only be created once every three years. The current maps in use are the 2019 variants.
Astronist population by year
Statistics of the numbers of Astronists in the world were not calculated before the year 2019 and so data for Astronist demographics before this time remain unavailable.
Number of Astronists by year

| Year | Number of Astronists | Percentage change (%) | Source |
| --- | --- | --- | --- |
| 2019 | 3,512,355 | n/a | Demographics of Astronism Report 2019 |
| 2020 | 4,272,439 | +21% | Demographics of Astronism Report 2020 |
Astronist demographic divisions by subregion
This section of the article presents how the Astronist Institution divides independent and dependent territories into subregions which are then used and referred to throughout all of its reports (unless a change is made by the Institution itself).
Africa
Americas
Central America and the Caribbean: Antigua and Barbuda, Bahamas, Barbados, Belize, Costa Rica, Cuba, Dominica, Dominican Republic, El Salvador, Grenada, Guatemala, Haiti, Honduras, Jamaica, Nicaragua, Panama, Saint Kitts and Nevis, Saint Lucia, Saint Vincent and the Grenadines, Trinidad and Tobago. The dependent territories also studied here include Anguilla,  Aruba, Bermuda, Bonaire, British Virgin Islands, Cayman Islands, Curaçao, Guadeloupe, Martinique,  Montserrat, Puerto Rico, Saba, 

Saint Barthélemy

, Saint Martin, Sint Maarten, Turks and Caicos Islands, and the US Virgin Islands.
North America: Canada, Mexico, United States
South America: Argentina, Bolivia, Brazil, Chile, Colombia, Ecuador, Falkland Islands, French Guiana, Guyana, Paraguay, Peru, Saint Helena, Ascension and Tristan da Cunha, Suriname, Uruguay, Venezuela
Asia
Europe
Oceania
Australasia: Australia, British Indian Ocean Territory,

Christmas Island

, Cocos (Keeling) Islands, New Zealand, Norfolk Island
Melanesia: Fiji, Nauru, New Caledonia, Papua New Guinea, Solomon Islands, Vanuatu
Micronesia: Guam, Kiribati, Marshall Islands, Micronesia, Nauru, Northern Mariana Islands, Palau
Polynesia: American Samoa, Cook Islands, Easter Island, French Polynesia, Niue, Pitcairn Islands, Samoa, Tokelau, Tonga, Tuvalu, Wallis and Futuna
Other
Top ten
Top ten countries by Astronist population (2020)

| Rank | Country | Astronists | % Astronist |
| --- | --- | --- | --- |
| 1 | China | 678,000 | 0.04 |
| 2 | India | 495,000 | 0.03 |
| 3 | Nigeria | 478,000 | 0.23 |
| 4 | United States | 450,000 | 0.13 |
| 5 | Philippines | 290,900 | 0.26 |
| 6 | Indonesia | 191,000 | 0.06 |
| 7 | Spain | 174,000 | 0.37 |
| 7 | Mexico | 171,000 | 0.13 |
| 8 | United Kingdom | 155,969 | 0.22 |
| 9 | Portugal | 61,900 | 0.6 |
| 10 | Russia | 53,700 | 0.03 |
By independent territory
For prior year's statistics of Astronist populations, go to country specific pages. Country total populations collected on 23rd October 2020.
Country
Total population
Astronists

(2019)

Astronists (2020)
Percentage of total
Intromator(s)
Afghanistan
38,928,346
100
150
0.0003%
Albania
2,877,797
500
579
0.02%
Algeria
43,851,044
1,000
1,753
0.003%
Andorra
77,285
100
140
0.18%
Angola
32,866,272
3,000
5,645
0.01%
Antigua and Barbuda
97,929
50
121
0.12%
Argentina
45,195,774
5,000
8,342
0.01%
Armenia
2,963,243
1,000
1,412
0.04%
Australia
25,499,884
45,000
47,325
0.18%
Austria
9,006,398
2,000
3,356
0.03%
Azerbaijan
10,139,177
100
363
0.003%
Bahamas
393,244
200
289
0.07%
Bahrain
1,701,575
100
128
0.007%
Bangladesh
164,689,383
13,000
17,487
0.01%
Barbados
287,375
200
291
0.1%
Belarus
9,449,323
100
467
0.004%
Belgium
11,589,623
4,000
6,667
0.05%
Belize
397,628
100
392
0.09%
Benin
12,123,200
1,000
2,991
0.02%
Bhutan
771,608
20
26
0.003%
Bolivia
11,673,021
500
1,790
0.01%
Bosnia and Herzegovina
3,280,819
1,000
1,467
0.04%
Botswana
2,351,627
1,000
1,221
0.05%
Brazil
212,559,417
9,000
18,919
0.008%
Brunei
437,479
50
75
0.01%
Bulgaria
6,948,445
1,000
1,344
0.01%
Burkina Faso
20,903,273
1,000
1,934
0.009%
Burundi
11,890,784
4,300
5,800
0.04%
Cambodia
16,718,965
500
919
0.005%
Cameroon
26,545,863
2,000
3,134
0.01%
Canada
37,742,154
10,000
13,756
0.03%
Cape Verde
555,987
100
128
0.02%
Central African Republic
4,829,767
100
193
0.003%
Chad
16,425,864
300
388
0.002%
Chile
19,116,201
2,000
2,748
0.01%
China
1,439,323,776
500,000
678,000
0.04%
Colombia
50,882,891
3,000
5,570
0.01%
Comoros
869,601
20
22
0.002%
Congo, Republic of
89,561,403
3,000
16,857
0.01%
Congo, Democratic Republic of
5,518,087
10,000
15,558
0.1%
Costa Rica
5,094,118
2,000
2,577
0.05%
Côte d'Ivoire
26,378,274
5,000
7,582
0.02%
Croatia
4,105,267
1,000
1,757
0.04%
Cuba
11,326,616
1,000
1,024
0.009%
Cyprus
1,207,359
500
590
0.04%
Czech Republic
10,708,981
5,000
9,565
0.08%
Denmark
5,792,202
6,000
6,858
0.11%
Djibouti
988,000
100
111
0.01%
Dominica
71,986
50
61
0.08%
Dominican Republic
10,847,910
1,000
1,454
0.01%
Ecuador
17,643,054
1,500
1,785
0.01%
Egypt
102,334,404
7,000
10,121
0.009%
El Salvador
6,486,205
1,000
1,321
0.02%
Equatorial Guinea
1,402,985
60
69
0.004%
Eritrea
3,546,421
50
51
0.001%
Estonia
1,326,535
3,000
5,688
0.42%
Eswatini
1,160,164
800
850
0.07%
Ethiopia
114,963,588
5,000
8,477
0.007%
Fiji
896,445
120
149
0.01%
Finland
5,540,720
1,750
1,890
0.03%
France
65,273,511
9,500
11,745
0.01%
Gabon
2,225,734
200
301
0.01%
Gambia
2,416,668
140
290
0.01%
Georgia
3,989,167
260
265
0.006%
Germany
83,783,942
45,000
51,657
0.06%
Ghana
31,072,940
1,000
3,890
0.01%
Greece
10,423,054
14,000
16,073
0.15%
Grenada
112,523
100
134
0.11%
Guatemala
17,915,568
1,500
2,320
0.01%
Guinea
13,132,795
3,200
3,998
0.03%
Guinea-Bissau
1,968,001
650
710
0.03%
Guyana
786,552
300
378
0.04%
Haiti
11,402,528
2,000
2,784
0.02%
Honduras
9,904,607
3,000
5,768
0.05%
Hungary
9,660,351
1,600
2,194
0.02%
Iceland
341,243
2,650
2,910
0.85%
India
1,380,004,385
454,000
495,000
0.03%
Indonesia
273,523,615
148,000
191,000
0.06%
Iran
83,992,949
2,340
2,414
0.002%
Iraq
40,222,493
8,530
8,984
0.02%
Ireland
4,937,786
3,000
4,895
0.09%
Israel
8,655,535
4,340
5,854
0.06%
Italy
60,461,826
18,560
21,340
0.03%
Jamaica
2,961,167
1,400
1,891
0.06%
Japan
126,476,461
5,000
7,555
0.005%
Jordan
10,203,134
1,770
1,911
0.01%
Kazakhstan
18,776,707
1,200
1,342
0.007%
Kenya
53,771,296
16,000
17,002
0.03%
Kiribati
119,449
440
442
0.3%
Korea, North
25,778,816
0
0
0%
Korea, South
51,269,185
19,450
21,758
0.04%
Kosovo
1,811,249
400
789
0.04%
Kuwait
4,270,571
150
161
0.003%
Kyrgyzstan
6,524,195
200
289
0.004%
Laos
7,275,560
570
589
0.008%
Latvia
1,886,198
300
492
0.02%
Lebanon
6,825,445
450
685
0.01%
Lesotho
2,142,249
390
591
0.02%
Liberia
5,057,681
1,120
1,191
0.02%
Libya
6,871,292
50
59
0.0008%
Liechtenstein
38,128
20
27
0.07%
Lithuania
2,722,289
700
734
0.02%
Luxembourg
625,978
530
611
0.09%
Madagascar
27,691,018
17,800
20,000
0.07%
Malawi
19,129,952
13,500
15,200
0.07%
Malaysia
32,365,999
4,560
5,111
0.01%
Maldives
540,544
0
2
0.0003%
Mali
20,250,833
1,200
1,403
0.006%
Malta
441,543
360
421
0.09%
Marshall Islands
59,190
370
399
0.67%
Mauritania
4,649,658
60
64
0.001%
Mauritius
1,271,768
40
345
0.02%
Mexico
128,932,753
157,000
171,000
0.13%
Micronesia, Federated States of
115,023
150
154
0.13%
Moldova
4,033,963
1,800
1,809
0.04%
Monaco
39,242
0
4
0.01%
Mongolia
3,278,290
3,600
3,918
0.11%
Montenegro
628,066
450
554
0.08%
Morocco
36,910,560
3,600
3,991
0.01%
Mozambique
31,255,435
33,000
35,184
0.11%
Myanmar
54,409,800
5,700
5,988
0.01%
Namibia
2,540,905
4,650
4,798
0.18%
Nauru
10,824
20
29
0.26%
Nepal
29,136,808
2,500
2,877
0.009%
Netherlands
17,134,872
25,600
27,890
0.16%
New Zealand
4,822,233
49,000
51,870
1.07%
Nicaragua
6,624,554
2,800
3,019
0.04%
Niger
24,206,644
4,300
5,050
0.02%
Nigeria
206,139,589
305,000
478,000
0.23%
North Macedonia
2,083,374
3,500
3,900
0.18%
Norway
5,421,241
16,000
16,700
0.3%
Oman
5,106,626
4,700
4,790
0.09%
Pakistan
220,892,340
12,200
15,500
0.007%
Palau
18,094
60
69
0.38%
Panama
4,314,767
6,600
7,400
0.17%
Papua New Guinea
8,947,024
1,800
2,000
0.02%
Paraguay
7,132,538
5,400
5,900
0.08%
Peru
32,971,854
3,000
4,500
0.01%
Philippines
109,581,078
275,400
290,900
0.26%
Poland
37,846,611
6,500
8,700
0.02%
Portugal
10,196,709
60,600
61,900
0.6%
Qatar
2,860,853
100
130
0.004%
Romania
19,237,691
7,900
8,500
0.04%
Russia
145,934,462
51,600
53,700
0.03%
Rwanda
12,952,218
800
1,000
0.007%
Saint Kitts & Nevis
53,199
350
355
0.66%
Saint Lucia
183,627
800
844
0.45%
Saint Vincent and the Grenadines
110,940
240
250
0.22%
Samoa
198,414
145
154
0.07%
San Marino
33,931
260
290
0.85%
São Tomé and Príncipe
219,159
300
305
0.13%
Saudi Arabia
34,813,871
400
440
0.001%
Senegal
16,743,927
2,600
2,900
0.01%
Serbia
8,737,371
8,000
9,000
0.1%
Seychelles
98,347
50
52
0.05%
Sierra Leone
7,976,983
160
500
0.006%
Singapore
5,850,342
10,100
11,000
0.18%
Slovakia
5,459,642
17,000
19,500
0.35%
Slovenia
2,078,938
6,000
7,000
0.33%
Solomon Islands
686,884
375
450
0.06%
Somalia
15,893,222
0
0
0%
South Africa
59,308,690
29,500
30,800
0.05%
South Sudan
11,193,725
3,000
4,000
0.03%
Spain
46,754,778
167,000
174,000
0.37%
Sri Lanka
21,413,249
3,400
3,900
0.01%
Sudan
43,849,260
150
2,000
0.004%
Suriname
586,632
120
190
0.03%
Sweden
10,099,265
38,000
38,900
0.38%
Switzerland
8,654,622
24,000
25,505
0.29%
Syria
17,500,658
100
300
0.001%
Taiwan
23,816,775
17,500
19,009
0.07%
Tajikistan
9,537,645
50
53
0.0005%
Tanzania
59,734,218
13,000
14,696
0.02%
Thailand
69,799,978
9,400
10,889
0.01%
Timor-Leste
1,318,445
100
123
0.009%
Togo
8,278,724
27,600
28,900
0.34%
Tonga
105,695
900
1,000
0.94%
Trinidad and Tobago
1,399,488
600
780
0.05%
Tunisia
11,818,619
200
400
0.003%
Turkey
84,339,067
5,800
6,200
0.007%
Turkmenistan
6,031,200
100
150
0.002%
Tuvalu
11,792
60
65
0.55%
Uganda
45,741,007
16,500
19,995
0.04%
Ukraine
43,733,762
23,000
24,000
0.05%
United Arab Emirates
9,890,402
430
713
0.007%
United Kingdom
67,886,011
146,000
155,969
0.22%
Cometan
United States
331,002,651
358,000
450,000
0.13%
Uruguay
3,473,730
330
513
0.01%
Uzbekistan
33,469,203
100
200
0.0005%
Vanuatu
307,145
390
450
0.14%
Vatican City
801
0
0
0%
Venezuela
28,435,940
2,850
4,099
0.01%
Vietnam
97,338,579
24,600
29,790
0.03%
Yemen
29,825,964
50
90
0.0003%
Zambia
18,383,955
4,500
5,444
0.02%
Zimbabwe
14,862,924
3,400
6,996
0.04%
Total
7,775,638,531

3,512,355

4,245,224
n/a
By dependent or disputed territory
Astronism by dependent territory

| Territory | Total population | Astronists (2020) | Astronists (2019) |
| --- | --- | --- | --- |
| Abkhazia | 240,000 | 190 | 100 |
| Åland Islands | 29,789 | n/a | n/a |
| American Samoa | 55,465 | 267 | 50 |
| Anguilla | 14,869 | 178 | 50 |
| Artsakh | 150,932 | 40 | 30 |
| Aruba | 105,845 | 300 | 200 |
| Bermuda | 62,506 | 180 | 100 |
| Bonaire | 20,104 | 109 | 100 |
| British Virgin Islands | 30,030 | 256 | 250 |
| Cayman Islands | 64,174 | 166 | 150 |
| Cocos (Keeling) Islands | 596 | n/a | n/a |
| Cook Islands | 17,518 | 104 | 100 |
| Curaçao | 25,979 | 298 | 250 |
| Easter Island | 5,761 | 22 | 20 |
| Falkland Islands | 3,234 | 56 | 50 |
| Faroe Islands | 48,497 | 100 | 80 |
| French Guiana | 290,832 | 689 | 600 |
| French Polynesia | 279,287 | 510 | 460 |
| Gibraltar | 33,701 | 101 | 45 |
| Greenland | 56,672 | 69 | 50 |
| Guadeloupe | 446,928 | 340 | 200 |
| Guam | 165,768 | 400 | 100 |
| Hong Kong | 7,371,730 | 12,000 | 7,000 |
| Martinique | 375,673 | 560 | 400 |
| Macau | 631,636 | 1,000 | 800 |
| Mayotte | 270,372 | 250 | 240 |
| Montserrat | 5,900 | n/a | n/a |
| New Caledonia | 278,500 | 890 | 700 |
| Niue | 1,615 | 23 | 20 |
| Norfolk Island | 2,169 | 25 | 0 |
| Northern Mariana Islands | 56,188 | 175 | 100 |
| Northern Cyprus | 326,000 | n/a | n/a |
| Palestinian Territories and West Bank | 4,817,000 | 540 | 300 |
| Pitcairn Islands | 50 | 0 | 0 |
| Puerto Rico | 2,933,408 | 5,900 | 3,000 |
| Réunion | 888,927 | 515 | 500 |
| Saba | 1,915 | n/a | n/a |
| Saint Barthélemy | 9,131 | n/a | n/a |
| Saint Helena | 6,059 | 27 | 25 |
| Saint Martin | 37,264 | n/a | n/a |
| Saint Pierre and Miquelon | 5,822 | 39 | 30 |
| Sint Eustatius | 3,138 | n/a | n/a |
| Sint Maarten | 42,388 | 139 | 40 |
| Somaliland | 3,508,000 | n/a | n/a |
| South Ossetia | 53,532 | 120 | 50 |
| Tokelau | 1,340 | 10 | 0 |
| Transnistria | 469,000 | 59 | 50 |
| Turks and Caicos Islands | 35,446 | 184 | 70 |
| U.S. Virgin Islands | 104,680 | 250 | 200 |
| Wallis and Futuna | 11,432 | 134 | 25 |
| Western Sahara | 513,000 | 35 | 30 |
| Total | 20,624,560 | 27,250 | 15,985 |
By region
Africa
Country
Total population
Astronists (2020)
Astronists

(2019)

Algeria
43,053,054
1,753
1,000
Angola
31,825,295
5,645
3,000
Benin
11,801,151
2,991
1,000
Botswana
2,303,697
1,221
1,000
Burkina Faso
20,321,378
18,919
1,000
Burundi
11,530,580
5,800
4,300
Cameroon
25,876,380
3,134
2,000
Cape Verde
549,935
128
100
Central African Republic
16,486,542
193
100
Chad
25,876,380
388
300
Comoros
850,886
22
20
Congo, Republic of
5,380,508
5,558
3,000
Congo, Democratic Republic of
86,790,567
16,857
10,000
Côte d'Ivoire
25,716,544
7,582
5,000
Djibouti
973,560
111
100
Egypt
100,388,073
10,121
7,000
Equatorial Guinea
1,355,986
69
60
Eritrea
3,497,117
51
50
Eswatini
1,148,130
850
800
Ethiopia
112,078,730
8,477
5,000
Gabon
2,172,579
301
200
Gambia
2,347,706
290
140
Ghana
30,417,856
3,890
1,000
Guinea
12,771,246
3,998
3,200
Guinea-Bissau
1,920,922
710
650
Kenya
52,573,973
17,002
16,000
Lesotho
2,125,268
591
390
Liberia
4,937,374
1,191
1,120
Libya
6,777,452
59
50
Madagascar
26,969,307
20,000
17,800
Malawi
18,628,747
15,200
13,500
Mali
19,658,031
1,403
1,200
Mauritania
4,525,696
64
60
Mauritius
1,269,668
345
40
Morocco
36,471,769
3,991
3,600
Mozambique
30,366,036
35,184
33,000
Namibia
2,494,530
4,798
4,650
Niger
23,310,715
5,050
4,300
Nigeria
200,963,599
478,000
305,000
Rwanda
12,626,950
1,000
800
São Tomé and Príncipe
215,056
305
300
Senegal
16,296,364
2,900
2,600
Seychelles
97,739
52
50
Sierra Leone
7,813,215
500
160
Somalia
15,442,905
0
0
South Africa
58,558,270
30,800
29,500
South Sudan
11,062,113
4,000
3,000
Sudan
42,813,238
2,000
150
Tanzania
58,005,463
14,696
13,000
Togo
8,082,366
28,900
27,600
Tunisia
11,694,719
400
200
Uganda
44,269,594
19,995
16,500
Zambia
17,861,030
5,444
4,500
Zimbabwe
14,645,468
6,996
3,400
Total

1,308,279,251

~783,105

552,490
Asia
Country
Total population
Astronists (2020)
Astronists

(2019)

Afghanistan
38,041,754
150
100
Armenia
2,957,731
1,412
1,000
Azerbaijan
10,047,718
363
100
Bahrain
1,641,172
128
100
Bangladesh
163,046,161
17,487
13,000
Bhutan
763,092
26
20
Cambodia
16,486,542
919
500
China
1,433,786,686
678,000
500,000
Georgia
3,996,765
265
260
India
1,366,417,754
495,000
454,000
Indonesia
270,625,568
191,000
148,000
Iran
82,913,906
2,414
2,340
Iraq
39,309,783
8,984
8,530
Israel
8,519,377
5,854
4,340
Japan
126,860,301
7,555
5,000
Jordan
10,101,694
1,911
1,770
Kazakhstan
18,551,427
1,342
1,200
Korea, North
25,666,161
0
0
Korea, South
51,225,308
21,758
19,450
Kuwait
4,207,083
161
150
Kyrgyzstan
6,415,850
289
200
Laos
7,169,455
589
570
Lebanon
6,855,713
685
450
Malaysia
31,949,777
5,111
4,560
Maldives
530,953
2
0
Mongolia
3,225,167
3,918
3,600
Myanmar
54,045,420
5,988
5,700
Nepal
28,608,710
2,877
2,500
Oman
4,974,986
4,790
4,700
Pakistan
216,565,318
15,500
12,200
Philippines
108,116,615
290,900
275,400
Qatar
2,832,067
130
100
Saudi Arabia
34,268,528
440
400
Singapore
5,804,337
11,000
10,100
Sri Lanka
21,323,733
3,900
3,400
Syria
17,070,135
300
100
Taiwan
23,773,876
19,009
17,500
Tajikistan
9,321,018
53
50
Thailand
69,625,582
10,889
9,400
Timor-Leste
1,293,119
123
195
Turkey
83,429,615
6,200
5,800
Turkmenistan
5,942,089
150
100
United Arab Emirates
9,770,529
713
430
Uzbekistan
32,981,716
200
100
Vietnam
96,462,106
29,790
24,600
Yemen
29,161,922
90
50
Total

4,601,371,198

1,862,210

1,542,065
Central America and the Caribbean
Country
Total population
Astronists (2020)
Astronists

(2019)

Antigua and Barbuda
97,118
121
50
Bahamas
389,482
289
200
Barbados
287,025
291
200
Belize
390,353
392
100
Costa Rica
5,047,561
2,577
2,000
Cuba
11,333,483
1,024
1,000
Dominica
71,808
61
50
Dominican Republic
10,738,958
1,454
1,000
El Salvador
6,453,553
1,321
1,000
Grenada
112,003
134
100
Guatemala
17,581,472
2,320
1,500
Haiti
11,263,077
2,784
2,000
Honduras
9,746,117
5,768
3,000
Jamaica
2,948,279
1,891
1,400
Mexico
128,932,753
171,000
0.13%
Nicaragua
6,545,502
3,019
2,800
Panama
4,246,439
7,400
6,600
Saint Kitts & Nevis
52,823
355
350
Saint Lucia
182,790
844
800
Saint Vincent and the Grenadines
110,589
250
240
Trinidad and Tobago
1,394,973
780
600
Total

219,982,925

204,075

24,990
Europe
Country
Total population
Astronists (2020)
Astronists

(2019)

Albania
2,880,917
579
500
Andorra
55,312
140
100
Austria
8,955,102
3,356
2,000
Belarus
9,452,411
467
100
Belgium
11,539,328
6,667
4,000
Bosnia and Herzegovina
3,301,000
1,467
1,000
Bulgaria
7,000,119
1,344
1,000
Croatia
4,130,304
1,757
1,000
Cyprus
1,198,575
590
500
Czech Republic
10,689,209
9,565
5,000
Denmark
5,771,876
6,858
6,000
Estonia
1,325,648
5,688
3,000
Finland
5,532,156
1,890
1,750
France
65,129,728
11,745
9,500
Germany
83,517,045
51,657
45,000
Greece
10,473,455
16,073
14,000
Hungary
9,684,679
2,194
1,600
Iceland
339,031
2,910
2,650
Ireland
4,882,495
4,895
3,000
Italy
60,550,075
18,560
18,560
Kosovo
1,809,280
789
400
Latvia
1,906,743
492
300
Liechtenstein
38,019
27
20
Lithuania
2,759,627
734
700
Luxembourg
615,729
611
530
Malta
440,372
421
360
Moldova
4,043,263
1,809
1,800
Monaco
38,964
4
0
Montenegro
627,987
554
450
Netherlands
17,097,130
27,890
25,600
North Macedonia
2,083,459
3,900
3,500
Norway
5,378,857
16,700
16,000
Poland
37,887,768
8,700
6,500
Portugal
10,226,187
61,900
60,600
Romania
19,364,557
8,500
7,900
Russia
145,872,256
53,700
51,600
San Marino
33,860
290
260
Serbia
8,772,235
9,000
8,000
Slovakia
5,457,013
19,500
17,000
Slovenia
2,078,654
7,000
6,000
Spain
46,736,776
174,000
167,000
Sweden
10,036,379
38,900
38,000
Switzerland
8,591,365
25,505
24,000
Ukraine
43,993,638
24,000
23,000
United Kingdom
67,530,172
155,969
146,000
Vatican City
799
0
0
Total

747,182,751

789,725

725,780
North America
Country
Total population
Astronists (2020)
Astronists

(2019)

Canada
37,411,047
13,756
10,000
United States
329,064,917
450,000
358,000
Total

366,475,964

463,756

525,000
Oceania
Country
Total population
Astronists (2020)
Astronists

(2019)

American Samoa
55,465
267
50
Australia
25,203,198
47,325
45,000
British Indian Ocean Territory
2,500
0
0
Cook Islands
17,548
104
100
Easter Island
5,761
22
20
Federated States of Micronesia
113,815
154
150
Fiji
889,953
149
120
French Polynesia
279,287
510
460
Guam
167,294
400
100
Kiribati
116,398
442
440
Marshall Islands
58,791
399
370
Nauru
13,649
29
20
New Caledonia
282,750
890
700
New Zealand
4,783,063
51,870
49,000
Niue
1,615
23
20
Norfolk Island
2,169
25
0
Northern Mariana Islands
56,188
175
100
Palau
18,008
69
60
Papua New Guinea
8,776,109
2,000
1,800
Pitcairn Islands
50
0
0
Samoa
197,097
154
145
Solomon Islands
669,823
450
375
Tokelau
1,499
10
0
Tonga
104,494
1,000
900
Tuvalu
11,192
65
60
Vanuatu
276,244
450
390
Wallis and Futuna
11,558
134
25
Total

42,184,223

107,116

100,405
South America
Country
Total population (2019)
Astronists (2020)
Astronists

(2019)

Argentina
44,780,677
8,342
5,000
Bolivia
11,513,100
1,790
500
Brazil
211,049,527
18,919
15,000
Chile
37,411,047
2,748
2,000
Colombia
50,339,443
5,570
3,000
Ecuador
17,373,662
1,785
1,500
Guyana
782,766
378
300
Paraguay
7,044,636
5,900
5,400
Peru
32,510,453
4,500
3,000
Suriname
581,372
190
120
Uruguay
3,461,734
513
330
Venezuela
28,515,829
4,099
2,850
South America

420,458,044

54,734

39,000
Totals
World (independent and dependent territories)
| Region | Total population | Astronist | % Astronist |
| --- | --- | --- | --- |
| World | 7,794,798,739 | 4,272,439 | 0.054 |
| Total | 7,794,798,739 | 4,272,439 | 0.054 |
Africa
Astronism in Africa (2019)

| Region | Total population | Astronist | % Astronist |
| --- | --- | --- | --- |
| Central Africa | 248,934,872 | 45,460 | 0.0182 |
| East Africa | 313,297,921 | 88,700 | 0.0283 |
| North Africa | 241,780,768 | 12,030 | 0.00497 |
| Southern Africa | 66,629,895 | 36,340 | 0.0545 |
| West Africa | 389,849,871 | 354,130 | 0.0908 |
| Total | 1,260,493,327 | 536,660 | 0.0425 |
Americas
Astronism in the Americas (2020)

| Reigon | Total population | Astronist | % Astronist |
| --- | --- | --- | --- |
| Central America and the Caribbean | 219,982,925 | 204,075 | 0.092 |
| North America | 366,475,964 | 463,756 | 0.126 |
| South America | 420,458,044 | 54,734 | 0.013 |
| Total | 1,005,559,709 | 588,990 | 0.0585 |
Asia
Astronism in Asia (2019)

| Region | Total population | Astronist | % Astronist |
| --- | --- | --- | --- |
| Central Asia | 73,212,100 | 1,650 | 0.0022 |
| East Asia | 1,672,611,098 | 553,350 | 0.033 |
| South Asia | 1,835,297,475 | 485,220 | 0.0264 |
| Southeast Asia | 607,018,317 | 473,375 | 0.0779 |
| Total | 4,188,138,990 | 1,513,595 | 0.0361 |
Europe
Astronism in Europe (2019)

| Region | Total population | Astronist | % Astronist |
| --- | --- | --- | --- |
| Eastern Europe | 325,120,767 | 140,350 | 0.0431 |
| Northern Europe | 27,163,468 | 64,530 | 0.237 |
| Southern Europe | 129,749,112 | 261,380 | 0.201 |
| Western Europe | 267,935,077 | 259,650 | 0.0969 |
| Total | 749,968,424 | 725,910 | 0.0967 |
Middle East
Oceania
Astronism in Oceania (2019)

| Region | Total population | Astronist | % Astronist |
| --- | --- | --- | --- |
| Australasia | 29,986,261 | 94,000 | 0.313 |
| Melanesia | 10,908,528 | 2,705 | 0.0247 |
| Micronesia | 562,617 | 1,240 | 0.22 |
| Polynesia | 685,536 | 1,780 | 0.259 |
| Total | 42,142,942 | 99,725 | 0.236 |
Arab world
Astronist population dynamics
| | | | |
| --- | --- | --- | --- |
| Region | Astronists (2020) | % of the Astronist population | Follower dynamics |
| World | 4,272,439 | 100% | Growing |
| Africa | 783,105 | 18.3% | Growing |
| Americas | 729,730 | 17% | Growing |
| Asia | 1,862,210 | 43.5% | Growing |
| Europe | 789,725 | 18.4% | Growing |
| Oceania | 107,116 | 2.5% | Growing |
Astronism and other religions
Astronists and other religious populations by region of the world (2020)

| Region | Total | Astronist | Buddhist | Christian | Folk religion | Jewish | Hindu | Muslim | Other |
| --- | --- | --- | --- | --- | --- | --- | --- | --- | --- |
| World | 7,794,798,739 | 4,272,439 | ~522,000,000 | 2,400,000,000 | 712,000,000 | 13,682,017 | 1,250,000,000 | 1,900,000,000 | 58,817,765 |
| Africa | 1,340,598,147 | 783,105 | 500,000 | 526,016,926 | ~100,000,000 | 61,910 | 2,013,705 | 600,000,000 | 1,815,728 |
| Americas | 1,022,831,978 | 729,730 | 4,270,000 | 797,910,000 | 10,987,250 | 6,356,580 | 2,030,904 | 8,000,000 | 3,237,367 |
| Asia | 4,641,054,775 | 1,862,210 | 515,000,000 | 375,905,000 | 600,000,000 | 5,685,517 | 1,175,000,000 | 1,200,000,000 | 52,639,460 |
| Europe | 747,636,026 | 789,725 | 2,000,000 | 565,560,000 | 1,000,000 | 1,457,920 | 2,806,344 | 50,000,000 | 876,180 |
| Oceania | 42,677,813 | 107,116 | 1,000,000 | 25,754,000 | 250,000 | 120,090 | 791,615 | 700,000 | 249,030 |
Demographics of religions (2020)

| Religion | Adherents | Percentage | Tradition |
| --- | --- | --- | --- |
| Christianity | 2.4 billion | 31.1% | Abrahamic |
| Islam | 1.9 billion | 24.9% | Abrahamic |
| Hinduism | 1.25 billion | 15.6% | Dharmic |
| Nonreligious/Agnostic/Atheist | 1.2 billion | 15.2% | n/a |
| Chinese traditional religion (includes Taoism and Confucianism) | 578 million | 7.4% | Taoic |
| Buddhism | 520 million | 6.7% | Dharmic |
| African traditional religions | 100 million | 1.2% | Indigenous |
| Falun Gong | 70 million | 0.9% | Taoic |
| Sikhism | 26 million | 0.3% | Dharmic |
| Spiritism | 15 million | 0.19% | Spiritualistic |
| Judaism | 14.7 million | 0.18% | Abrahamic |
| Yiguandao | 14 million | 0.18% | Taoic |
| Bahá'í Faith | 7 million | 0.09% | Abrahamic |
| Jainism | 6 million | 0.07% | Dharmic |
| Astronism | 4.27 million | 0.05% | Astronic |
| Shinto | 4 million | 0.05% | Taoic |
| Cao Dai | 4 million | 0.05% | Taoic |
| Cheondoism | 2.9 million | 0.03% | Taoic |
| Zoroastrianism | 2.6 million | 0.03% | Iranian |
| Tenrikyo | 2 million | 0.02% | Taoic |
| Weixinism | 1.3 million | 0.016% | Taoic |
| Neo-Paganism (includes Wicca) | 1 million | 0.01% | Pagan |
| Unitarian Universalism | 0.8 million | 0.01% | Abrahamic |
| Druze | 0.8 million | 0.01% | Abrahamic |
| Rastafarianism | 0.6 million | 0.007% | Abrahamic |
| Bon | 0.6 million | 0.007% | Taoic |
See also