This article is about a non-fiction entity related to the Astronist belief system or the Astronic tradition.
Any article relating to a fictional entity will be clearly marked as being part of the Spacefaring World.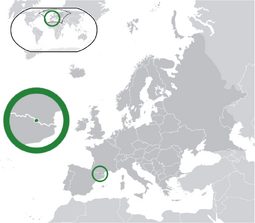 Astronism in Andorra refers to the presence of the Astronist philosophy and religion in the Principality of Andorra. The operations of the Astronist Institution in this country are under jurisdiction of the Astronist Superiate of Andorra, a national subsidiary of the worldwide Astronist Institution.
The Astronist Superiate of Andorra oversees the construction and maintenance of observatories and planetariums throughout its jurisdiction. Andorra is split into seven parishes and is set to hold one Grand Observatory in the capital city of Andorra la Vella, which is also the only observatory in the principality. 
Other terms
Several terms are used to refer to the presence of Astronism in Andorra and this includes:
Astro-Andorran philosophy
Astro-Andorran religion
Astro-Andorran spirituality
Andorran Astronism
Andorran astronomical religion
Andorran Cosmism
Andorran astroncy
History of Astronism in Andorra
Astronism is not recognised as a religion in Andorra although freedom of religion is high, hence Andorra has been labelled as apathetic to the Astronist religion. The number of Astronists in Andorra is currently unknown, mainly due to the fact that the religion remains unrecognised and is therefore not part of censuses.
Astronist demographics in Andorra
| | |
| --- | --- |
| Year | Number of Astronists |
| 2019 | 100 |
| 2020 | 140 |
See also