This article is about a non-fiction entity related to the Astronist belief system or the Astronic tradition.
Any article relating to a fictional entity will be clearly marked as being part of the Spacefaring World.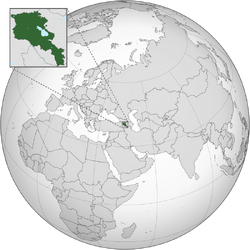 Astronism in Armenia refers to the presence of the Astronist philosophy and religion in the Republic of Armenia. The operations of the Astronist Institution in this country are under jurisdiction of the Astronist Superiate of Armenia, a national subsidiary of the worldwide Astronist Institution.
The Astronist Superiate of Armenia oversees the construction and maintenance of observatories and planetariums throughout its jurisdiction. Armenia is split into eleven administrative divisions and is set to hold one Grand Observatory in the capital city of Yerevan, which is one of two observatories in the nation.
Other terms
Several terms are used to refer to the presence of Astronism in Armenia including:
Astro-Armenian philosophy
Armeno-Astronism
Astronizm
Astro-Armenian religion
Astro-Armenian spirituality
Armenian Astronism
Armenian astronomical religion
Armenian Cosmism
Armenian astroncy
Astronism in Artsakh
Astronism in Artsakh refers to the presence of Astronism in the Republic of Artsakh, a breakaway state in southwestern Azerbaijan whose population is majority Armenian. Astronism is not recognised by the de-facto government in Artsakh and the religious freedom of Astronists in the breakaway state has been labelled as censorious by the Astronist Institution.
According to the Demographics of Astronism Report published in December 2020, there are 40 Astronists living in Artsakh, up from 30 Astronists residing there in 2019.
Armenian diaspora
Astronism among the Armenian diaspora refers to the presence of Astronism and the extent to which it is practiced amongst ethnic Armenian populations outside Armenia itself. The current number of Astronists of Armenian descent is not known.
History of Astronism in Armenia
Astronism charters its presence in Armenia back to December 2018 when Cometan travelled to the country to meet Cosma in person for the first time. From even before the trip, Cosma had already professed her adherence to Astronism and had begun speaking about her partner's new religion amongst friends and family. 
One of the notable images of Cometan was taken at Tsitsernakaberd, the place of the Armenian Genocide memorial in Yerevan. Cometan affinity for Armenia has been widely documented and even though his relationship with Cosma ended the following year in 2019, the philosopher's affinity for the country, its culture, and its struggles against Turkey for recognition of the Armenian genocide continued.  
During Cometan's relationship with Cosma, the Armenian known for the Omnidoxy was developed as the Omniadaran and not long afterwards, Cometan's Armenian name was designated as Kometanakan. 
Currently, Astronism is not recognised by the government of Armenia as a religion and freedom of religion in Armenia for Astronists has been labelled as censorious by the Astronist Institution.  
Astronist demographics in Armenia
| | |
| --- | --- |
| Year | Number of Astronists |
| 2019 | 1,000 |
| 2020 | 1,412 |
See also