This article is about a non-fiction entity related to the Astronist belief system or the Astronic tradition.
Any article relating to a fictional entity will be clearly marked as being part of the Spacefaring World.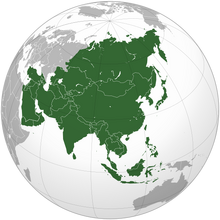 Astronism in Asia, or Asian Astronism, is a major branch of philosophical demography and refers to the study of the presence of Astronism including its diversity, potency, and the nature of its organisation across the countries of the entire continent of Asia.
This alphabetically includes Abkhazia, Afghanistan, Armenia, Azerbaijan, Bahrain, Bangladesh, Bhutan, Brunei, Cambodia, China, Cyprus, Georgia, Hong Kong, India, Indonesia, Iran, Iraq, Israel, Japan, Jordan, Kazakhstan, Kuwait, Kyrgyzstan, Laos, Lebanon, Macau, Malaysia, the Maldives, Mongolia, Myanmar (formerly Burma), Nepal, North Korea, Oman, Pakistan, Palestine, Philippines, Qatar, Russia, Saudi Arabia, Singapore, South Korea, Sri Lanka, Syria, Taiwan, Tajikistan, Thailand, Timor-Leste, Turkey, Turkmenistan, United Arab Emirates (UAE), Uzbekistan, Vietnam, and Yemen.
Segmenting the study of Astronism in Asia are the recognised subregions the Middle East, Central Asia, South Asia, East Asia, and Southeast Asia.
Other terms
Several terms are used to refer to the presence of Astronism in Asia including:
Astro-Asian philosophy
Astro-Asian religion
Astro-Asian spirituality
Asian astroncy
Asian Astronism
Asian astronomical religion
Asian Cosmism
Asian space religion
History of Astronism in Asia
Astronism has origins in Asia from the early years of the Founding era, namely in China which now has the largest Astronist population in the world at 678,000 as of 2020.
Independent territories
Dependent territories
See also