This article is about a non-fiction entity related to the Astronist belief system or the Astronic tradition.
Any article relating to a fictional entity will be clearly marked as being part of the Spacefaring World.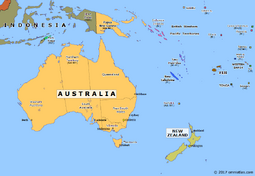 In the study of the demographics of Astronism, Astronism in Australasia refers to the presence of Astronism in Australia and New Zealand. This is part of the wider study of Astronism in Oceania and sits alongside three other studies for the respective regions of Oceania: Melanesia, Micronesia, and Polynesia.
Other terms
Several terms are used to refer to the presence of Astronism in the Arab world including:
Astro-Australasian philosophy
Astro-Australasian religion
Astro-Australasian spirituality
Australasian astroncy
Australasian Astronism
Australasian astronomical religion
Australasian Cosmism
Australasian space religion
History of Astronism in Australasia
Independent territories
Dependent territories
See also