This article is about a non-fiction entity related to the Astronist belief system or the Astronic tradition.
Any article relating to a fictional entity will be clearly marked as being part of the Spacefaring World.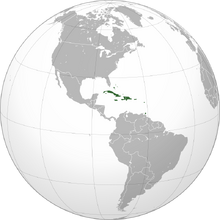 In the field of philosophical demography, Astronism in Central America and the Caribbean (including Central American Astronism and Caribbean Astronism) refers to the study of the presence of Astronism involving its diversity, potency, and the nature of its organisation across the countries of the subregions of Central America, and the Caribbean.
The independent countries of this study include Antigua and Barbuda, Bahamas, Barbados, Belize, Costa Rica, Cuba, Dominica, Dominican Republic, El Salvador, Grenada, Guatemala, Haiti, Honduras, Jamaica, Nicaragua, Panama, Saint Kitts and Nevis, Saint Lucia, Saint Vincent and the Grenadines, Trinidad and Tobago.
The dependent territories also studied here include Anguilla, Aruba, Bermuda, Bonaire, British Virgin Islands, Cayman Islands, Curaçao, Guadeloupe, Martinique, Montserrat, Puerto Rico, Saba, Saint Barthélemy, Saint Martin, Sint Eustatius, Sint Maarten, Turks and Caicos Islands, and the US Virgin Islands.
Other terms
Several terms are used to refer to the presence of Astronism in the Caribbean including:
Astro-Caribbean philosophy
Astro-Caribbean religion
Astro-Caribbean spirituality
Caribbean astroncy
Caribbean Astronism
Caribbean astronomical religion
Caribbean Cosmism
Caribbean space religion
Several terms are used to refer to the presence of Astronism in Central America including:
Astro-Central American philosophy
Astro-Central American religion
Astro-Central American spirituality
Central American astroncy
Central American Astronism
Central American astronomical religion
Central American Cosmism
Central American space religion
History of Astronism in the Caribbean
The history of Astronism began in the Caribbean region with Cometan's visit to Saint Lucia in July 2020. This marked the founder of Astronism's first trip to the region and although Astronism may have existed there prior to Cometan's trip through the various efforts of its digital transmission, this trip generally marks the beginning of the religion's history there.
Currently, no governments of countries in the Caribbean currently officially recognise Astronism as a religion or philosophy, although many recognised Astronism by default and there is a growing Astronist community on the vast majority of the Caribbean island countries.
History of Astronism in Central America
The history of Astronism in Central America began with the digital transmission of Astronism across various websites and other platforms during the closing years of The Founding of Astronism era. Particularly with the translation of these platforms and the beliefs of Astronism into Spanish, this allowed the religion to flourish digitally in the region.
There are no governments in Central America that currently recognise Astronism as a religion or philosophy and the number of Astronists is unknown.
Independent Territories
Dependent territories
See also