This article is about a non-fiction entity related to the Astronist belief system or the Astronic tradition.
Any article relating to a fictional entity will be clearly marked as being part of the Spacefaring World.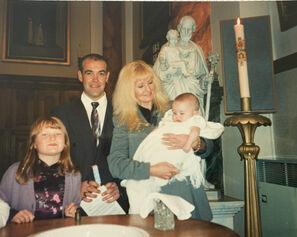 The Christening of Cometan is a notable image of Cometan taken on the 18th October 1998 in Brindle St Joseph's Church in Hoghton, Lancashire during the Christening ceremony of Cometan into the Roman Catholic Church.
As the second notable image of Cometan, the Christening of Cometan succeeded the First Image of Cometan and preceded Cometan & Grandfather.
External links