This article is about a non-fiction entity related to the Astronist belief system or the Astronic tradition.
Any article relating to a fictional entity will be clearly marked as being part of the Spacefaring World.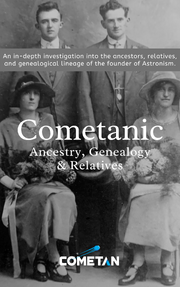 Cometan's Ancestral Stories is an upcoming series of videos and films that will document Cometan's endeavours to uncover the truths of his ancestry in Lancashire and beyond, including legacy videos and interviews with some of his relatives.
Cast by episode
Cast by season
List of Cometan's Ancestral Stories episodes
#
Title
Featured cast
Type
Viewership (YouTube only)
Date of recording
Date of publication
Season 1 (2020–2021)
1
Legacy Video of Hilda Warbrick
Cometan, Hilda Warbrick, William Warbrick
Legacy video
TBA
5th November 2020
TBA
2
Legacy Video of Monica Anne Bolton
Cometan, Hilda Warbrick, Monica Anne Bolton, Louise J. Counsell, William Warbrick
Legacy video
TBA
15th March 2021
TBA
3
Legacy Video of William Warbrick
Cometan, Louise J. Counsell, William Warbrick
Legacy video
TBA
15th June 2021
TBA
Seasons by time period
Seasons by time period

| Season | Time period | No. of episodes |
| --- | --- | --- |
| Season 1 | November 2020 – June 2021 | 3 |
See also