This article is about a non-fiction entity related to the Astronist belief system or the Astronic tradition.
Any article relating to a fictional entity will be clearly marked as being part of the Spacefaring World.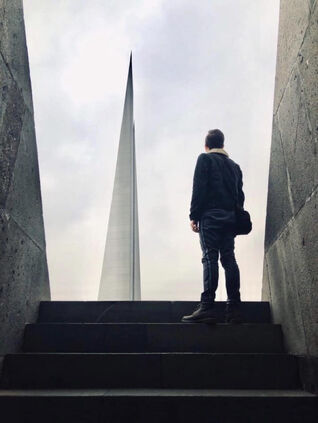 Cometan at Tsitsernakaberd is an image that was taken on 19th December 2018 by Liana Tiratsuyan (known by the title Cosma in Astronism) during Cometan's trip to Yerevan, Armenia. It was published online almost immediately after it was taken and garnered thousands of reactions and views across multiple social media networks.
As the twenty-ninth notable image of Cometan, this image succeeds Cometan & Cosma, but precedes the image Black & White Cometan.
Not only did the image become one of the most iconic images of Cometan during The Year of Prolifics, it also reflected Cometan's documented affinity for Armenia and signalled the beginning of his advocacy work for the Armenian Genocide.
The rights to this image are currently held by the Millettarian Photographic Institute and it is distributed by the Institution-owned publisher Photography Lately.
External links