This article is about a non-fiction entity related to the Astronist belief system or the Astronic tradition.
Any article relating to a fictional entity will be clearly marked as being part of the Spacefaring World.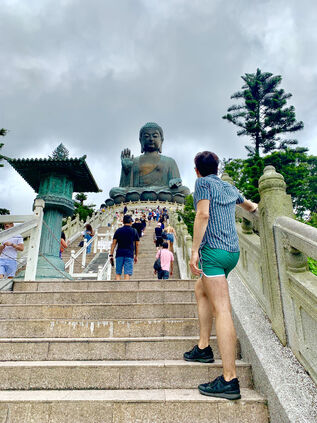 Cometan at the Tian Tan Buddha is a notable image of Cometan designated by the Astronist Institution. It was taken during his trip to Hong Kong on 29th August 2019 by Heastward. This image was taken during Cometan's visit to the Po Lin Monastery on Lantau Island during his trip to Hong Kong with his two friends, Heastward and Mai Kaijian.
As the thirty-third notable image of Cometan, succeeds the Graduation of Cometan and precedes Cometan's First Television Appearance.
It marked the first time that Cometan had ever seen a giant Buddha and it would later be regarded by Cometan as a significant and influential spiritual experience for the then young philosopher and religious founder. The image was published across social media networks by the publisher Astronism.org and was viewed by many thousands of people.
The rights for this image are currently held by the Millettarian Photographic Institute. It is distributed by the publisher Photography Lately.
External links