This article is about a non-fiction entity related to the Astronist belief system or the Astronic tradition.
Any article relating to a fictional entity will be clearly marked as being part of the Spacefaring World.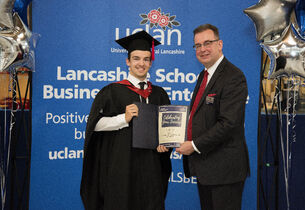 Cometan attended the University of Central Lancashire in Preston from age eighteen to twenty-one (from 2016 until 2019) and it was during this time that his vision for Astronism and the Jesse Millette franchise rapidly matured and developed. This is mostly due to the fact that his authorship of the Omnidoxy took particular priority and was intensive during the final two years of his time at university.
Also during this period, Cometan began more regularly practising auto-didacticism alongside his university studies. Cometan would spend hours in the university's main library until the early hours of the morning reading the whole extent of books available on theology, philosophy, religion, marketing, and business to expand his mind beyond what he was taught in the classroom. Highly independent and self-assured, Cometan became immersed in the challenging world of higher education.
Graduation day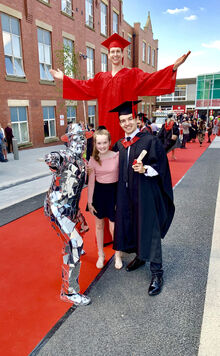 Cometan graduated from the University of Central Lancashire with a first class degree in Bachelor of Arts Honours Business and Marketing on Monday 15th July 2019 at the age of twenty-one. Cometan was admitted to the Dean's List of the Lancashire School of Business and Enterprise, a prestigious list officiated with a certificate.
Cometan was invited to a Celebrate Your Success event following the main graduation ceremony where he was presented with his certificate affirming his place on the Dean's List by Executive Dean, Chris Pyke.
During this event, Cometan was also presented with his certificate for winning the Best Project in the CMPR Divisional Prize as he achieved the best mark out of all his peers. Cometan's mother, Louise Counsell, his younger sister, Astria, his stepfather, Julian Counsell, and his maternal grandparents, Bill and Hilda Warbrick all attended the event.
Related articles