This article is about a non-fiction entity related to the Astronist belief system or the Astronic tradition.
Any article relating to a fictional entity will be clearly marked as being part of the Spacefaring World.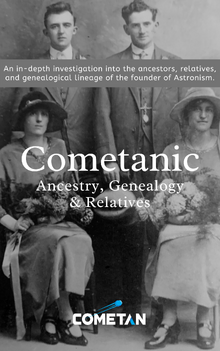 Cometanic Ancestry, Genealogy & Relatives: The Familial Lineage of the Founder of Astronism is an upcoming book published by Cometanica that is set to detail the ancestral lines of Cometan, to provide clarity on the genealogy of Cometan, and to explore the lives of the most notable and interesting of Cometan's ancestors whilst also providing a historical overview of the county of Lancashire.
The book is set to be released on 1st July 2020, the twenty-second birthday of Cometan which will mark the end of The Year of Completion and the beginning of The Year of Manifestation.