This article is about a non-fiction entity related to the Astronist belief system or the Astronic tradition.
Any article relating to a fictional entity will be clearly marked as being part of the Spacefaring World.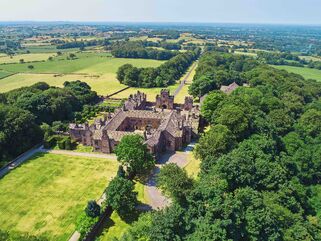 The most intense time of writing for Cometan's creation of the Omnidoxy took place while he was employed at and associated with Hoghton Tower, a fortified historic manor house in the village of Hoghton, Preston, Lancashire where Cometan's grandparents lived. Cometan's employment there began when he turned nineteen years old in July 2017, but he had been volunteering at the Tower since he was eighteen.
Cometan was later quoted in a local magazine saying how the architectural beauty and the long and mysterious history of the Tower and its grounds held a strong influence over him as he spent the majority of the summertime working there. Working at Hoghton Tower launched Cometan into a new world; one that remained completely distant from his upbringing.
The first official portrait picture of Brandon Taylorian, monomyously known as Cometan, was taken in the Smoking Room at Hoghton Tower by photographer Thomas de Hoghton, son of the 14th Baronet, Sir Bernard De Hoghton. However, it was perhaps Cometan's 21st birthday party that was
Cometan's employment at Hoghton Tower lasted over two years which was mutually ended in September 2019.
Although Cometan began his authorship of The Omnidoxy roughly a year prior to the beginning of his employment at Hoghton Tower, the most intensive period of his omnidoxical writings take place during his employment at the Elizabethan fortified manor house.
Although the extent to which the Tower itself influenced Cometan's philosophical ideas is limited, the philosopher has been quoted on a multitude of occasions saying that working at such an atmospheric place as Hoghton Tower enhanced his creativity.
Despite the fact that the most intense period of authorial production took place during this time, it is important to mention that Cometan mentioned little of his developing philosophy of Astronism (then called Millettism) to the de Hoghton family or his colleagues there.
Many of the most famous beliefs, ideas, and theories that are essential to the foundations of Astronism and the wider Astronic tradition were formed during Cometan's employment at Hoghton Tower.
Volunteering
By chance, Cometan came across Hoghton Tower as part of his search for volunteering opportunities during his first year of university. He had been aware of the Tower since he was a child as his maternal grandparents had lived nearby the Tower since before Cometan had been born, but the young philosopher had paid no particular attention to the historic house.
After beginning his volunteering at Hoghton Tower, Cometan quickly entered the world of work and was introduced to the members of the de Hoghton family with whom he held an instant bond. The family offered the eighteen year old his first true employed true beside his time working for his mother.
Relations with the de Hoghton family
As mentioned, Cometan held an instant bond with the members of the de Hoghton family who remained approachable, down-to-earth, yet well-established members of the British aristocracy. Cometan, having grown up in a middle-income household, had never come across any members of the aristocracy previously and so, upon his employment at Hoghton Tower, he was introduced into a world, albeit in a small way, in which titles and hierarchies were the normality.
Employed role
Despite the fact that Cometan's philosophership was rapidly developing during his employment at Hoghton Tower, his phulular role there consisted purely of marketing and advertising. Due to the circumstances of the Tower at time of his employment, Cometan was thrusted in the sole marketing position and essentially managing the entire marketing budget and operations for the Hoghton Tower Preservation Trust.
Cometan created a legacy for himself in the Tower's history and incorporated many of his forming beliefs into his ideas, the most prominent of which was his idea to host the first stargazing and astronomy event at the Tower called Stargazing at the Tower. Cometan solely organised and managed this event from start to end and it was this that he would later regard as his greatest achievement during his time at Hoghton Tower.
Cometan's employed role at Hoghton Tower lasted for a solid two years; Cometan was eighteen when he first gained employment there and was twenty-one years old when he left his employed role at the Tower in September 2019.
Related articles