We're Getting Mutants in the MCU - The Loop
Play Sound
This article is about a non-fiction entity related to the Astronist belief system or the Astronic tradition.
Any article relating to a fictional entity will be clearly marked as being part of the Spacefaring World.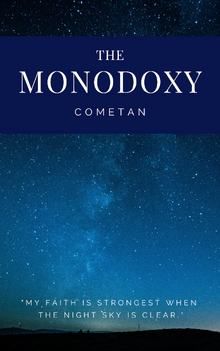 The Monodoxy, known by its trade name as The Monodoxy: The Principles of The Aesthetic Cosmos, and also referred to as the First Disquisition, comprises the first of twelves disquisitions of the Omnidoxy as the founding treatise of the philosophy of Astronism with its subtitle being The Principles of The Aesthetic Cosmos. The Monodoxy precedes all other omnidoxical disquisitions in chronology, yet trails behind the Duodoxy in total word length for the Monodoxy rests at approximately 275,000 words while the Duodoxy nears 400,000 words in total length. The total number of insentensations recorded within The Monodoxy is 6,001.
The authorship of the Monodoxy rests solely with the first Millettic philosopher and the founder of Astronism, Cometan at age of nineteen, and being the initial entry of The Twelve Grand Principles, the Monodoxy was the first disquisitions of the Omnidoxy to be completed, indexed, and published.
The Monodoxy has been described as laying the thematic foundations of Astronism with its distinct focus on the elements, entities, and phenomena of The Cosmos which form the general character and identity of the entirety of Astronism, hence the frequent use of this astronomically-related primary appellation.
Etymology of the Monodoxy
The title Monodoxy is formed by the prefix mono- meaning one and the suffix -doxy meaning authority or knowledge imparted through written means.
History of the Monodoxy
The origins of the Monodoxy rest in The Founding of Astronism by the philosopher and author, Cometan.
Significance for cosmic philosophy
The Monodoxy is credited as being the disquisition which single-handedly founded the branch of philosophy known as cosmic philosophy.
Discourses of the Monodoxy
The Monodoxy comprises a total of fifty-five discourses, all of which pertain to different disciplines and topics of study of cosmic philosophy. A list of such discourse is found here:
Comparison with other disquisitions
See also